Chatham Coloring Cards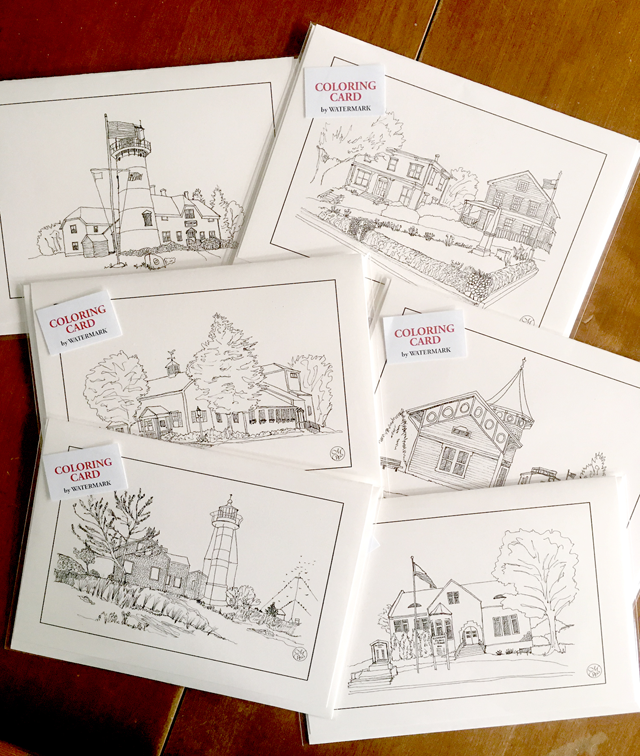 Coloring cards are available for all 20 restaurants depicted in Chatham Colors and Dines, and for all 20 landmarks/favorite places shown in Chatham Colors Favorite Places. They are especially well received by people in isolation/quarantine or nursing homes and retirement communities.
The drawings are by Marie Williams of WATERMARK and they are being printed and bound locally.
The cards are 5 x 7 and are priced at $2.50 each (with tax) and can be ordered by emailing or calling WATERMARK.
Email:
watermark@chathamcolors.com
Phone:
508-945-4444
Payment can be made with cash (remember that?), check, or via paypal below:
Select From Chatham's Favorite Restaurants and Favorite Places!
Select from the list below and include with your order before adding to cart!
Chatham Bars Inn
Chatham Wine Bar
Impudent Oyster
Chatham Squire
Wild Goose Tavern
Bluefin's Sushi and Sake Bar
The Captain's Table
Bistro on Main and Chatham Raw Bar
Orpheum Cafe
The Red Nun Bar and Grill
Sweet Tomatoes
Branches Grille and Cafe
Del Mar Bar and Bistro
Knots Landing
Pates
Mac's Seafood
Mom and Pops Burgers
Kreme N Kone
Pisces
Talkative Pig
Lighthouse Beach Shack
Chatham Lighthouse
Coast Guard Lifeboat 44301
North Patrol House
The Calico Cat
Joseph Lincoln House
The Yellow Field on Shore Road
Chatham Candy Manor
Whit Tileston Bandstand
Methodist Church/Town Clock
Eldredge Public Library
Sears Park
Veterans Field
Monomoy Theatre
Chatham Railroad Museum
Unitarian Universalist Meeting House
Mitchell River Bridge
Stage Harbor Lighthouse
Oyster Shanties
Monomoy Lighthouse
If you are in or near Chatham, "curb service" delivery of your cards is an option from the parking lot at 6J Munson Meeting Way in Chatham. Just call Marie at 508-945-4444 when you arrive. (Call first to be sure the office is open).
Images of colored cards can be posted on the Gallery page. Please upload your colored card images
here
.